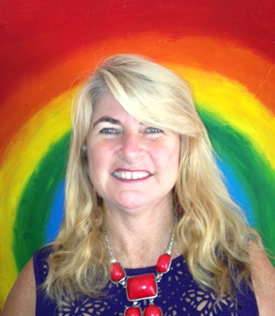 "Attunements are so powerfully deep, it can heal the cause of the problem.  It heals the cause, not the symptoms.  It is the 'Quick Relief, Fix' that people are now looking for.  It is freeing and gives people back their health, happiness, joy and contentment."
Debra M. Bright
Energy Master
Debra has been working with Energy Therapies for the last 25 years and she is highly experienced and professional.  She conducts Workshops to teach and empower people on how  to Chakra Balance and use Universal Healing Energy on themselves and others.
She works with the Energy Therapies including Energy Body Attunements, Remote Energy Body Attunements,
Animal Energy Attunements, Kinegetics, Chironics, Animal Therapies, Remote Sessions, Reiki, Swedish Massage, Accupressure Massage, Chakra Balancing, Muscle Testing, Personal Vibrational Remedies, Personal Herbal Mixes (Aust Bushflower and Egyptian).
She does Body Attunements to "fix for good" peoples issues and health problems.
Here's what some of her clients have to say:
Hugs to you Debra Bright. I am feeling so clear today after my healing session with you. Incredible Results Immediately.
Jo
Debra fixed my right knee in just 1 session.
Tracey
Still feel amazing after my body attunement and clearing a month ago..thanks so much Debra Bright.
Kim
I have prostrate cancer. After working with Deb, it has decreased from high levels and it is now in remission.The specialist and I are amazed.
Bill
I was depressed and suicidal, working with Deb I have now completely turned around my life and enjoying my family and friends.
Michelle
Hi Debra, me again. You know, you are responsible for a lot of love in my family! Firstly, you got my son from a big mess and led him into an engagement. Secondly, you opened my heart and let me experience love again. I am not sure whether I am loved back but its so good to be able to FEEL again.
Elena
Well i just want to say a big big big thank you to Debra Bright for my chakra clearing.. the very next day, and i mean the very next day after my clearing, with this beautiful and gifted lady, i was able to get a credit card, and i got a job.. im feeling so incredibly fabulous like the yrs past have been lifted from me.. I had an abundance clearing and health and love clearing and retrained my brain.. im feeling so awesome and its all thanks to Debra I swear and urge others if you haven't had a chakra clearing from this lady, u are missing out you truly are… Thank you to the moon and back special lady.
Laona
For 3 wks I suffered excruciating pain in my back.  I went to other therapists to help, then to Deb who fixed me in 1 session and had me out on my jet ski the very next day.
Mike
My child came down with a really bad cough.  They called it whooping cough and because she had not been immunised, she wasn't allowed at school and scorned upon.  Met Deb who said she could fix it naturally and sure enough, after 3 sessions she was all fixed and healthy again.  Thanks heaps Deb."
Sue
I had Heart Flutters over many years and after my 1st session Body Attunement, no more, and feel very different, positive and happy.
Jen
I mentioned to Deb I had a Sore Back (Sciatica) for many years and hadn't played golf in 2 years.  She said, jump up on the table and 1 hour later I had NO Sore Back, yet she hadn't hardly laid a hand on me.  No manipulation or back cracking etc.  I don't know what she did but I left the pain behind in her room.  I recommend it to everyone.  I played golf the next week, the best in 15 years.
Damian
After my Body Attunement session on Abundance, I received my lump sum tax return with way more than I thought. It so worked Deb, thank you.
Alex
Hi Abracadebra,Something Amazing happened,'wahoo' after your abundance session, I am Recieving enough energy money 2 pay 4 this session 4 me-so will pop $ in yr acct. I am looking 4ward very much 2 this attunement and excited 4 all the magnificent changes I have already had.
Deanne., Cbr
I walked in having a Seizure and Couldn't Talk. I had a session and the seizure stopped and didn't come on (usually lasts days) and I could talk again, Amazing!
Barry
I was in the Vietnam War and have no more Nightmares since my 1st session.  I have cut my coffee intake down also from 15 per/day to 3 per/day and Can actually now drink water.  Thanks Deb.
Leo
My name is Jane & I rang you last night on psychic TV line about my cat Millie. When I phoned you last night I was desperate as my cat was listed as critical in an emergency vet hospital with toxic poison. After a clearing by you, for Millie & myself I went to bed & had a really good sleep, when I woke up I rang the vet & was amazed to hear she had turned the corner through the night & they listed her as improving. I rang again later & was told she can come home tomorrow. I cannot thank you enough for what you did for my cat, the vets told me they really didn't think she would make it. I believe it was your clearing that made the difference…thank you, thank you, thank you. You are such a sweet person and I am so grateful I made that call….
Jane & Millie
Disclaimer – Debra works complimentary with medicine, she accepts no liability for misinterpretation or the consequences of any actions taken on the basis of the information provided, she does not offer medical advice, if pain persists please see your doctor. You must not rely on the information on our website as an alternative to medical advice from your doctor or other professional healthcare provider.